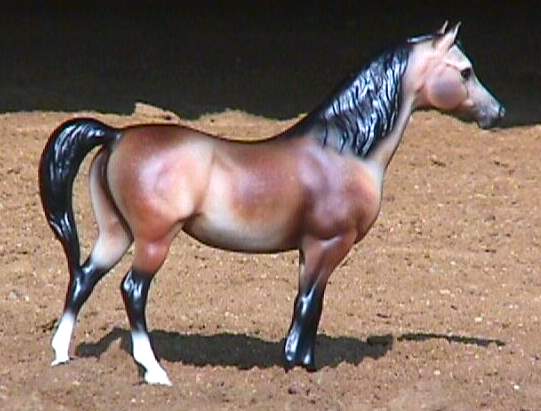 PRINCETON MARINER:
1986 (Real) Chestnut Heirloom Egyptian Arabian Stallion
Suarez writes, via e-mail, 5/19/97, that PRINCETON was incredible, absolutely breath-taking.... He had this smooth, soft metallic chestnut coat that shimmered and danced in the sunlight. His mane was really fine, really silky.... His body was very compact, very round, very balanced. He had that nice, short Kuhaylan head with those flexible ears that picked up sound in every direction. He was on the smaller side of 14 hands but when he blew up and did that prance, you would believe that he was taller.
Dakila's pedigree is so treasured that her foals will only be available through IPABRA events
(i.e. IPABRA Benefit Auction).
MA AJAMALA:
1989 Grey Heirloom Egyptian Arabian Mare
owned by Pointe East Stables